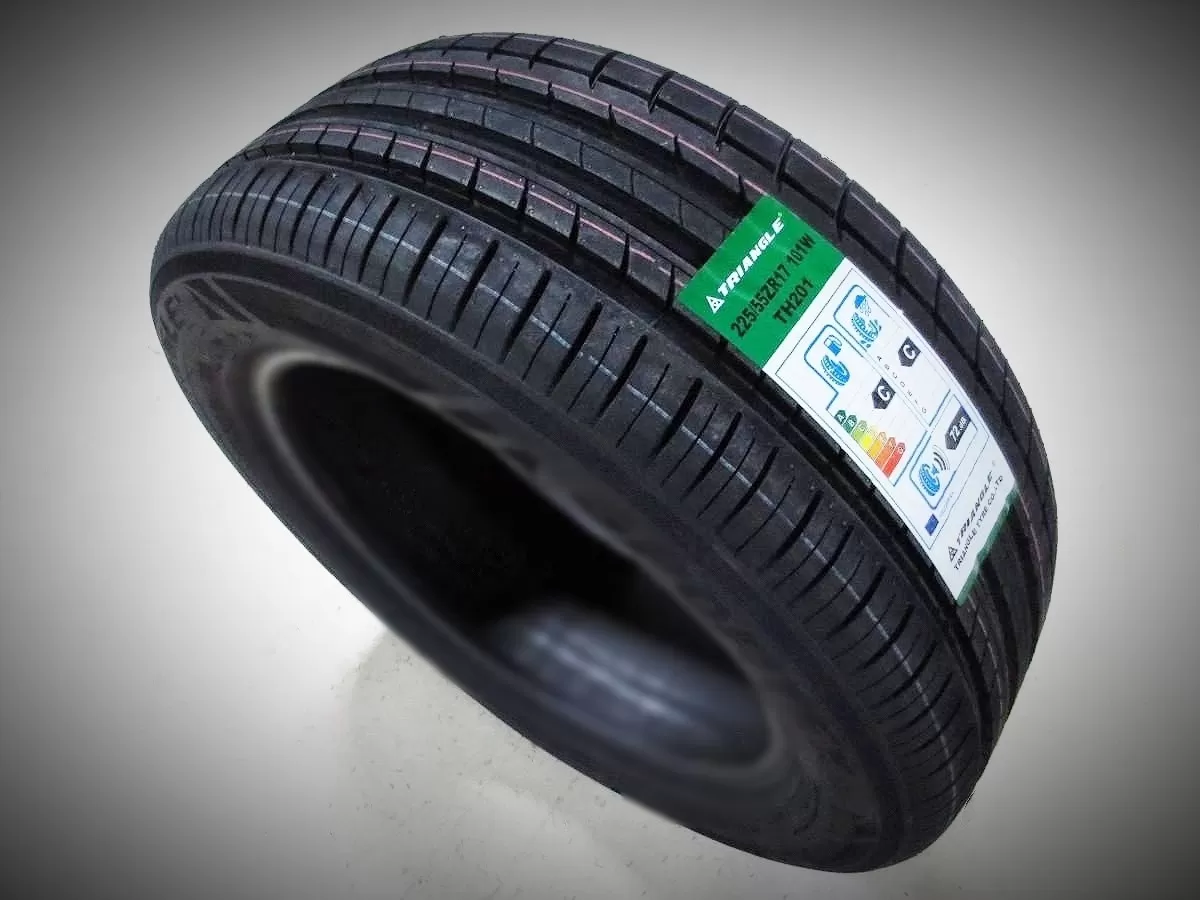 Characteristics of the popular Triangle summer tires
TR967 is an inexpensive tire that is suitable for everyday comfortable driving around the city. Due to the low rolling coefficient, you can save on petrol refueling. Fans of driving are better off choosing other tires.
About tires summer "Triangle" reviews among motorists more often with a positive assessment. After all, this rubber from a Chinese manufacturer is produced using Goodyear technologies in compliance with high quality standards and at an affordable price.
Car tire Triangle Group TR967 (summer)
The model is designed for passenger cars of the middle class and above.
Despite the high supported speed index, it does not apply to sports tires. Therefore, it is better to use tires at an urban pace, although dynamic and aggressive driving is also acceptable, but as an exception.
Protector Benefits:
The V-shaped pattern, consisting of five longitudinal tracks and a monolithic central rib, gives the tires excellent directional stability and handling even at high speeds;
open shoulder zones improve the maneuverability of the machine if heavy precipitation falls;
a drainage system of deep longitudinal and curved transverse grooves guarantees rapid removal of moisture and resistance to aquaplaning;
asymmetric pattern design reduces the generated noise when driving, and on good asphalt, the rubber is silent;
the reinforced sidewall is designed to absorb possible impacts when driving.
If you look at the negative reviews about Triangle summer tires, then the owners indicate the following shortcomings of the model:
poor balance (typical for sizes 205/55);
skidding on corners in the rain;
strong aquaplaning.
TR967 is an inexpensive tire that is suitable for everyday comfortable driving around the city.
Due to the low rolling coefficient, you can save on petrol refueling.
Fans of driving are better off choosing other tires.
Tire Triangle Group Sportex TSH11 / Sports TH201 (summer)
This model was developed specifically for sale in the European market and is suitable for most passenger cars. It is available in common sizes and diameters of 16-24 inches.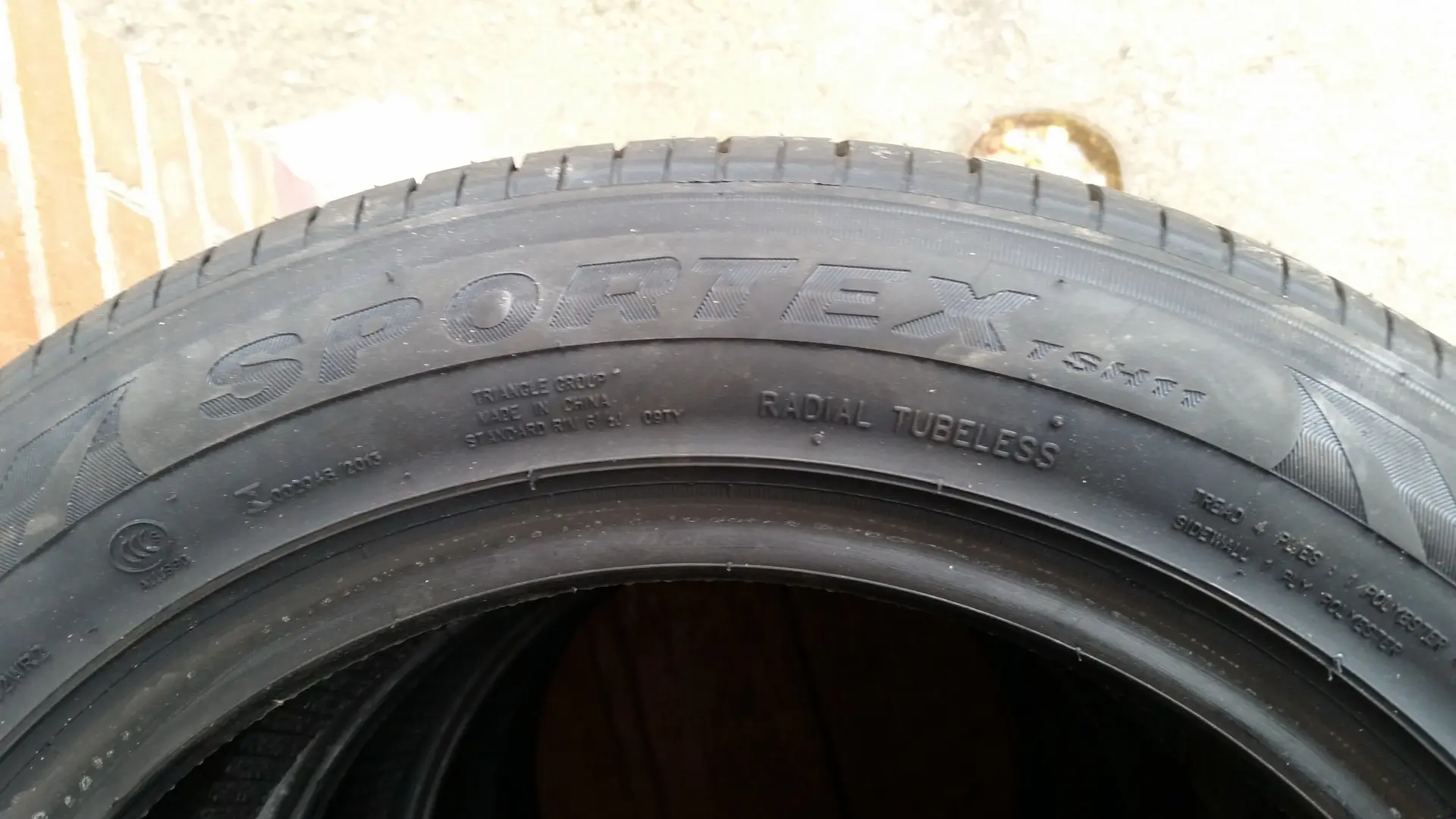 Rubber is much lighter than its predecessors due to the use of modern technology. This increases the efficiency of all components of the chassis of the car. In the production of the rubber compound, special materials are used that reduce the heating of the tire while driving. In addition, reduced heat generation gives tires the following characteristics:
wear resistance;
low fuel consumption;
shock resistance when traveling on uneven roads;
resistance to deformation from overheating, which leads to tire imbalance.
Sportex TSH 11 (Sports TH 201) have an asymmetric tread design.
Massive block elements increase the contact patch area, which guarantees stable traction when cornering and high-speed traffic.
Rubber benefits:
instant response to the actions of the driver is possible due to the massive layers of the breaker and reinforced shoulder area;
low noise level and good traction even on wet pavement is ensured by the asymmetric design of the pattern and the network of drainage grooves.
Cons that you can see when reading reviews of Triangle summer tires:
soft sidewall - easily pressed through with 1 finger;
there is no flanging to protect against the curb (need a larger width);
require balancing during long-term storage, as they harden and deform (noted on size 245/45).
These tires are suitable for cars of various classes. Sportex TSH11 (Sports TH201) feel best during summer trips on dry and wet paved roads.
Car tire Triangle Group TR246 (summer)
This rubber with an aggressive arcuate tread pattern is designed for SUVs.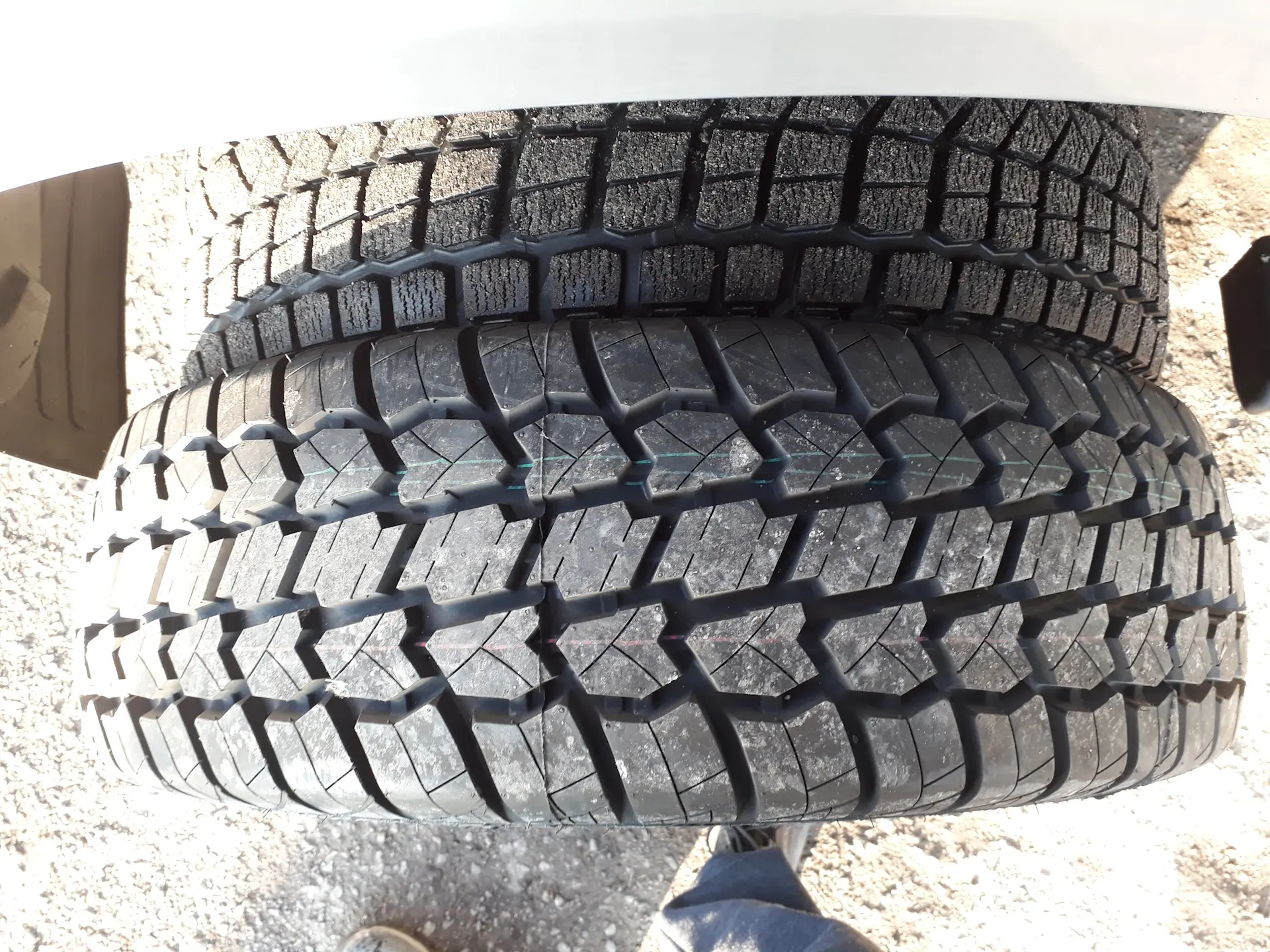 It has high patency on any type of surface. The model is equipped with an effective system of self-cleaning from moisture and shock protection.
Advantages of the TR246 protector:
massive lugs provide stable grip and good off-road traction;
asymmetrically located checkers reduce the noise level and increase directional stability;
a system of broken hydroevacuation channels effectively removes moisture from the contact patch, reducing the risk of aquaplaning;
Optimal sipe arrangement reduces heat build-up, increasing tread life.
Tire Disadvantages:
high weight (more than 20 kg) contributes to increased fuel consumption;
insufficient directional stability on dense wet clay.
Thanks to its excellent driving characteristics and low price, the TR246 model has gained popularity among many SUV owners.
TOP 3 best Triangle tires
Triangle Tires
Diameter in inches
Width

Height, %
Maximum tire load, kg (index)
Supported speed, km/h
Average price, ₽
TR967
16-20
205-245
35-55

from 545 to 800

(87-100)

210-270

(H, V, W)

7899
Sportex TSH11 / Sports TH201
16-21, 24
195-305
30-55

From 478 1120 up

(83-112)

210-300

(H,V,W,Y)

5003
TR246
15-16

216-265

75-85

From 900 1550 up

(104-123)

140-180

See also:

Rating of summer tires with a strong sidewall - the best models of popular manufacturers

(N, Q, R, S)

6381
Owner feedback
Opinions about rubber from China are contradictory. But most drivers leave positive feedback about Triangle summer tires.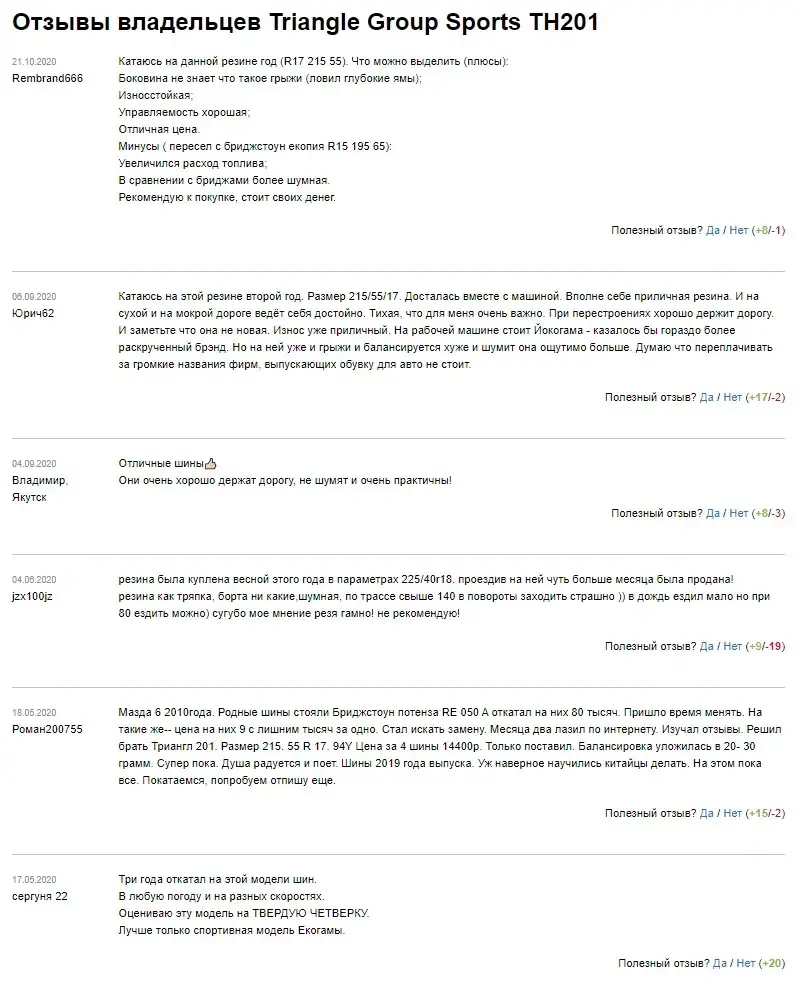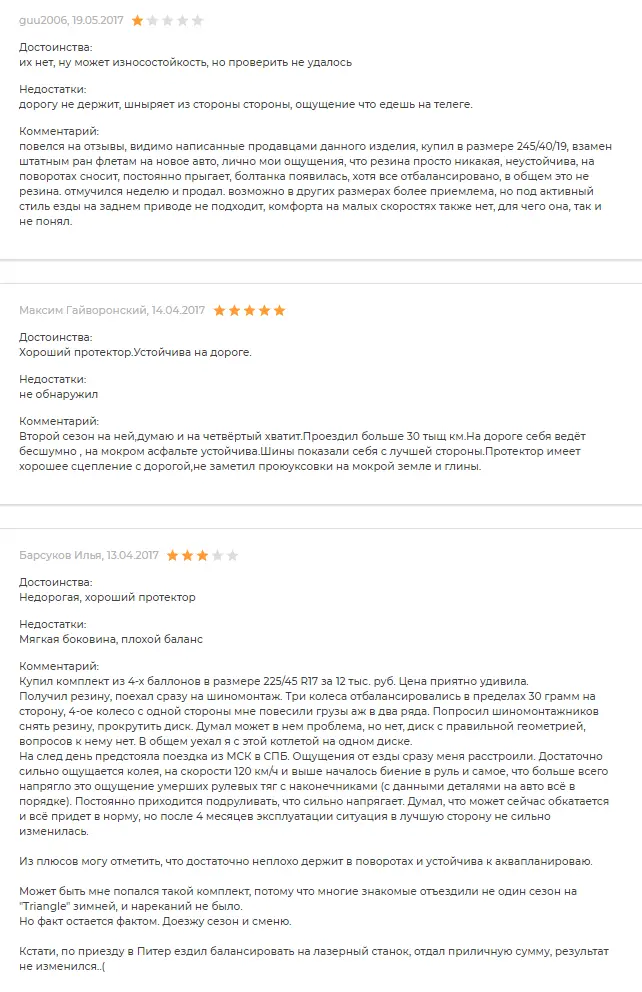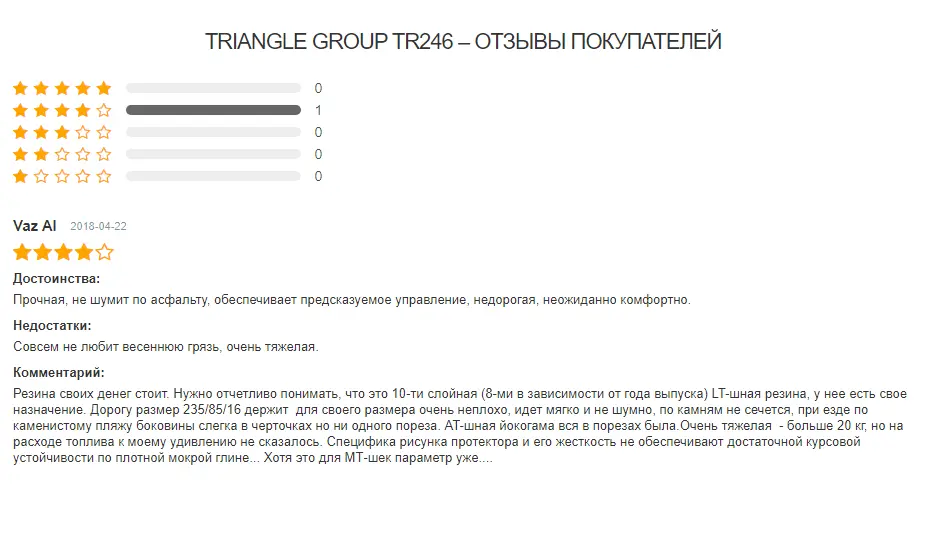 Car owners note wear resistance, good handling, and the absence of hernias during long-term operation. Some talk about noise (although some drivers call the tires quiet), poor balance.
Triangle TR246 summer tire review ● Autonetwork ●