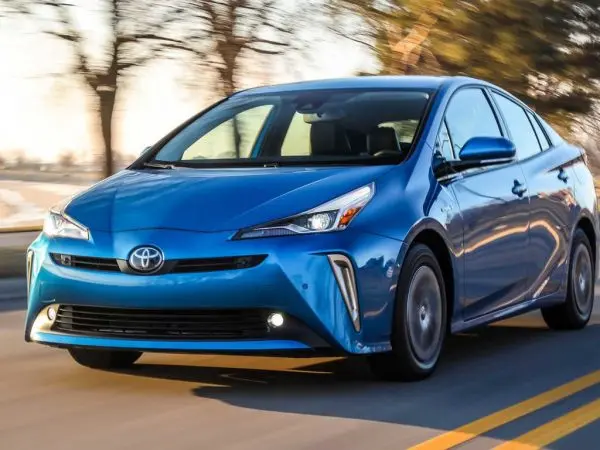 Top travel cars - which model will never ruin your trip
When an avid autotourist decides to buy a new car, the question always arises before him: what to choose? After all, the characteristics of the cars are very different. One can go a very long time without refueling. The other has a very roomy interior. There are many features and criteria. We'll try to deal with them.
Selection criteria and the best car models
Let's consider cars depending on the criteria that many fans of car travel are guided by.
Travel distance
The first thing a future car owner thinks about is: how long can his car drive without refueling? To find out, you should calculate how much the car travels on one liter of fuel. The resulting figure must be multiplied by the total capacity of the tank. It's simple: if a car consumes an average of 9 liters while driving on a highway, and the tank capacity is 60 liters, then a car can travel 666 km (100/9 * 60) without refueling. It is the fuel consumption that interests the domestic traveler in the first place. Because it is not always possible to find good gasoline in the outback. We list the cars that can go very far, refueling just once.
Toyota Prius
Toyota Prius is a hybrid car that can travel 1217 km on one tank. Its economy is amazing - it consumes an average of 100 liters of fuel per 3.8 km.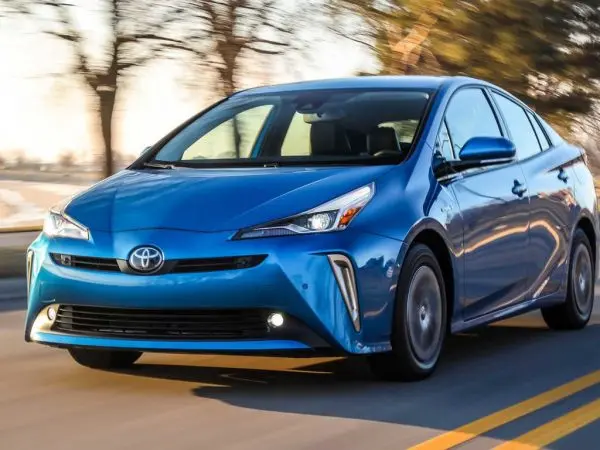 Toyota Prius is a car with a record low fuel consumption
This low consumption is due to several factors. The machine is equipped with a hybrid installation. The gasoline engine has a very high efficiency. This motor is based on the Atkinson cycle. And finally, the Toyota Prius has excellent body aerodynamics. Here are the main characteristics of the machine:
fuel tank capacity - 45 liters;
car weight - 1380 kg;
engine power - 136 liters. With;
acceleration time from 0 to 100 km / h - 10.3 sec.
VW Passat 2.0 TDI
The well-known Passat can also be a good choice for those who want to save on gasoline, as it can travel 1524 km without refueling.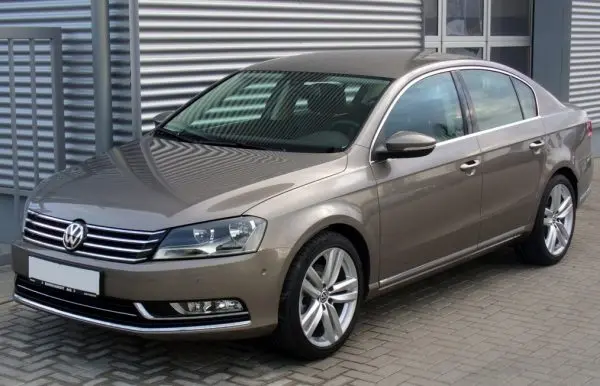 Economy Volkswagen Passat 2.0 TDI beats Ford Mondeo
In this regard, the "German" bypasses its closest competitor - the Ford Mondeo. But he spends only 0.2 liters less than the "American". Characteristics:
fuel tank capacity - 70 liters;
machine weight - 1592 kg;
engine power - 170 liters. With;
acceleration time from 0 to 100 km / h - 8.6 seconds.
BMW 520d
The BMW 520d is another good option for long trips. But this rule applies only to models with a manual transmission.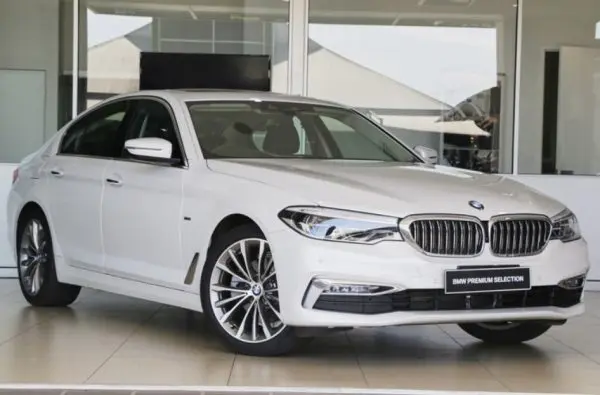 Economical are the BMW 520d only with manual transmissions
The car is heavier than the two above. But when driving on the highway, it consumes only 4.2 liters of fuel, and the consumption in the city is no more than 6 liters. Without refueling, the car is able to travel 1629 km. Characteristics:
fuel tank capacity - 70 liters;
machine weight - 1715 kg;
engine power - 184 liters. With;
acceleration time from 0 to 100 km / h - 8 seconds.
Porsche Panamera Diesel 3.0D
Porsche cars have always been characterized by high speed and increased comfort. And the Panamera was also a very economical model. On the highway, this car consumes an average of 5.6 liters of diesel fuel.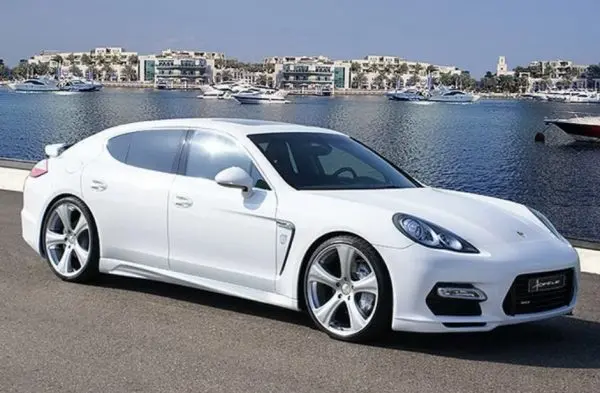 Porsche Panamera Diesel 3.0D owner can travel from Moscow to Germany without refueling
On one tank you can drive 1787 kilometers. That is, the owner of this car can go from Moscow to Berlin without refueling, for example. Characteristics:
fuel tank capacity - 100 liters;
machine weight - 1890 kg;
engine power - 250 liters. With;
acceleration time from 0 to 100 km / h - 6.7 seconds.
Track difficulty
The ideal touring car is one that feels equally confident on mediocre dirt roads and on highways. There are not so many universal cars that would satisfy these requirements, but they do exist. Let's list them.
Volkswagen Polo
In our country, the Volkswagen Polo is not as common as the Passat mentioned above. But this small compact sedan can be a great choice for traveling on a variety of roads.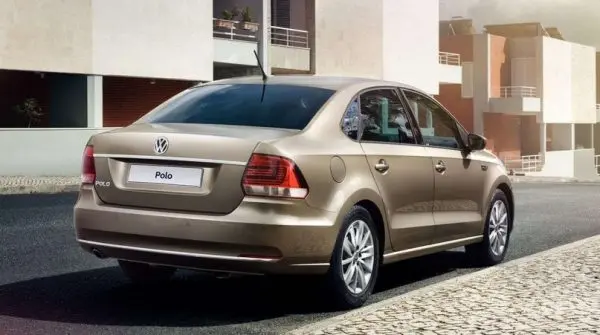 Volkswagen Polo - unpretentious, but very passable car
The reason is not only the high reliability of this car, proven over the years, but also its ground clearance. It is 162 mm, which is a truly gigantic value for a sedan. So, with skillful driving, the Polo owner is not afraid of either deep potholes or stones sticking out on the road. The price of the car starts from 679 thousand rubles. And Polo perfectly tolerates the harsh domestic climate. And this is another weighty argument in favor of choosing this car.
Volkswagen Amarok
Another representative of the German automaker is Volkswagen Amarok. It costs 2.4 million rubles. This is several times more expensive than the Polo, so not everyone can afford the Amarok. But even in the basic configuration, the car is very well equipped. It has all the necessary safety systems that will help the driver on the road of any complexity.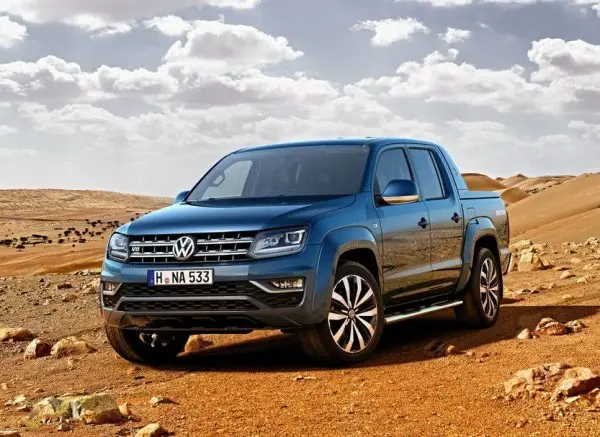 Volkswagen Amarok - a pickup truck ideal for outdoor enthusiasts
The clearance of the car is even greater than that of the Polo - 204 mm. It should also be noted here that a pickup-type body in our country has never been in great demand. However, for a lover of auto tourism, this particular type of body is an ideal option. Thus, Amarok is a cross-country vehicle, resistant to the harsh local climate and perfectly adapted to any domestic track.
Mitsubishi Outlander
Outlander manufacturers offer customers the widest choice of options, so many motorists will be able to choose a car for their wallet. Motor power varies from 145 to 230 hp. With.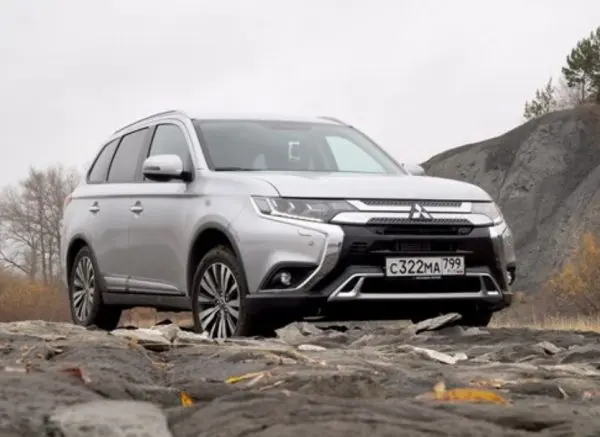 Mitsubishi Outlander - the most popular Japanese SUV
Engine capacity - from 2 to 3 liters. The drive can be both full and front. Ground clearance is 214 mm. And Mitsubishi cars have always been highly economical, which is very important for a traveler. Maintenance of this "Japanese" is also inexpensive. The cost of the car starts from 1.6 million rubles.
Suzuki Grand Vitara
Another economical Japanese car worth paying attention to is the Suzuki Grand Vitara. This compact crossover is very popular in Russia, and the popularity is well deserved.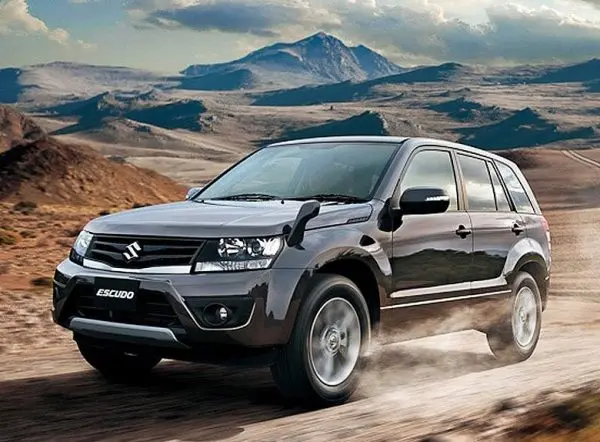 Suzuki Grand Vitara has gained well-deserved popularity among domestic drivers
The price of the car depends on the configuration and varies from 1.1 to 1.7 million rubles. It is operated mainly in the city. But outside of it, Grand Vitara feels very confident. Even the primer, completely covered with potholes, is not a problem for him, since the car's ground clearance is 200 mm.
Renault Duster
In terms of price, quality and cross-country ability, Renault Duster is the best option for domestic roads of very different quality. Its price starts from 714 thousand rubles, which is already a serious advantage over other crossovers. Duster is equipped with a good suspension that effectively "eats" most of the bumps in the road.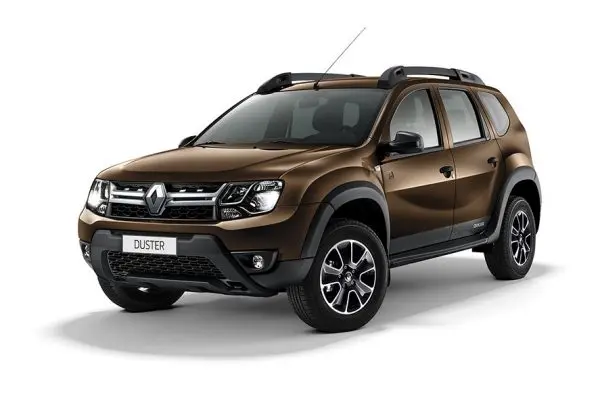 Renault Duster is very popular in Russia because of the excellent suspension
The car is assembled with high quality, engine power varies from 109 to 145 hp. With. Ground clearance is 205 mm. A four-wheel drive will allow the driver to feel confident on any road.
Cabin capacity
The capacity of the car is another important criterion for travel enthusiasts. If the family of the car owner is small, any of the above cars will suit him. But if there are a lot of family members, the issue of interior spaciousness will have to be carefully considered. Let's list a few roomy cars.
Ford Galaxy
The Ford Galaxy minivan can accommodate 7 people, so it is perfect for even the largest family. All seats are separate and folding, and the roof is panoramic. Even as standard, the Ford Galaxy has an 8-inch touchscreen display, an 8-speaker infotainment system, Bluetooth, multiple USB ports and a satellite navigation system.
Ford Galaxy - roomy minivan
Engine power varies from 155 to 238 hp. With. These are turbocharged petrol engines. But in our country, a turbodiesel engine with a capacity of 149 liters has gained immense popularity. With. The main reason for its popularity is its high power and outstanding economy. When driving on the highway, the car consumes 5 liters of fuel per 100 kilometers. It is this version of the Ford Galaxy that is ideal for family trips on domestic roads.
Ford C-Max
Ford C-Max is a compact American minivan. The capacity of its cabin varies from 5 to 7 people. The seven-seat variant is called the Grand C-Max and is the second generation of minivans produced since 2009. All variants of the car are equipped with the MyKey system, which helps the driver to cope with a mass of non-standard traffic situations.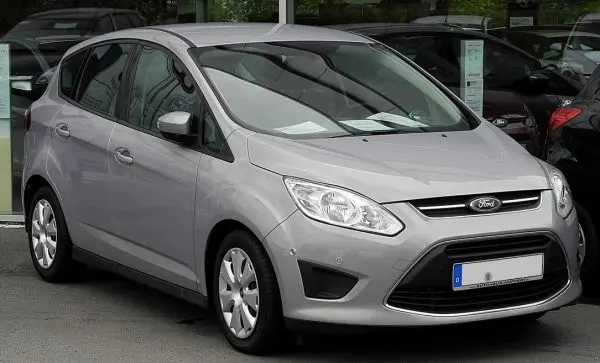 Ford C-Max can accommodate from 5 to 7 people, depending on the modification
There is an eight-inch display and a navigator controlled by voice. And the car has excellent sound insulation, which is the most important advantage for families with small children. Vehicle vibration levels are also kept to a minimum. Engine power varies from 130 to 180 hp. With. The transmission can be either automatic or mechanical.
Peugeot Traveler
Peugeot Traveler is a minivan created by French and Japanese engineers. There are different modifications of this car, which differ primarily in the length of the body. It varies from 4500 to 5400 mm. The wheelbase is also different - from 2.9 to 3.2 m. Therefore, the shortest version of the Peugeot Traveler can accommodate 5 people, and the longest can accommodate 9.
Peugeot Traveler - a joint development of French and Japanese engineers
This is a great choice for very large families. The only drawback of this minivan is the high price, which starts from 1.7 million rubles. The fact is that in the modern world the rule has long been in effect: the wealthier the family, the fewer children it has. Our country is no exception. So Peugeot Traveler, with all its reliability and other advantages, will never be able to take the top line in the ratings of large family cars.
Driver age
If a young driver is able to adapt to almost any car, then this situation changes with age. The older a person becomes, the more he has special requirements for a car. An elderly driver is greatly facilitated by modern electronic assistants: parking sensors, tracking systems for "dead zones", automatic rear-view cameras. All this should be installed in machines oriented towards the older generation, and it is desirable that all this is included in the basic package. Here are a few machines that meet these requirements.
H
Honda Accord is very popular all over the world. It began to be produced in 1976, and is still being produced. Almost 9 million cars were sold in the US alone. In 2012, the production of the 9th generation of this car was launched.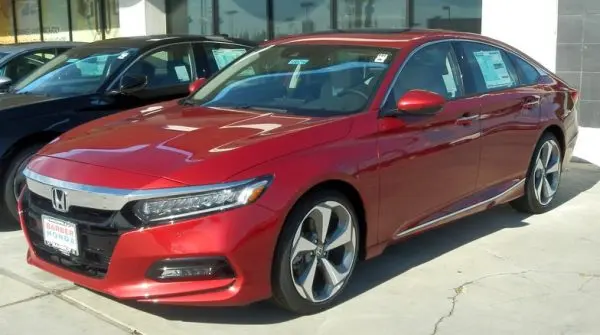 Honda Accord is the perfect choice for older drivers
In Russia, it is presented in two versions: with an engine of 2.4 and 3.5 liters. The main advantage of the car is not only a serious electronic "stuffing", which is already offered in the basic configuration, but also a unique front suspension with additional stabilizers that increase lateral stability. The Honda Accord is available in both coupe and sedan body styles. Improved handling, coupled with modern parking sensors, navigation and multimedia systems, makes this car ideal for drivers of any age.
Kia Soul
Another reliable and inexpensive car for an elderly driver is the Kia Soul. The basic configuration of the car already has GLONASS support, a road stability system and an active control system VSM and an anti-lock braking system ABS. In 2019, this Korean car was recognized as having received the minimum number of criticisms during continuous operation for 7 years. However, there is a caveat: the above achievement applies only to cars with gasoline engines. In addition to the classic car, there is also the Kia Soul EV. This machine is equipped with an electric motor and a lithium battery pack installed under the passenger compartment floor. And in terms of reliability, this modification is poorly studied. Simply because this hybrid was launched relatively recently, and there is not yet enough statistical data on it.
Peugeot 3008
The creators of the Peugeot 3008 sought to build an inexpensive but functional crossover. And they succeeded despite the fact that the Peugeot 3008 does not have all-wheel drive. But he has a Grip Control system that allows you to very finely tune a variety of vehicle characteristics depending on the external environment. The suspension has excellent lateral stability, which is extremely important for an elderly driver. The "Frenchman" is equipped with only two engines: either gasoline, with a volume of 1.6 liters, or diesel with a volume of 2 liters. Moreover, the diesel engine is very economical. When driving on the highway, it consumes only 7 liters of fuel per 100 kilometers.
Ssang Yong Kyron
Appearance SsangYong Kyron can hardly be called expressive and memorable. But it starts up perfectly even in the most severe frosts and is ideal for hunting or fishing trips. Even the basic package includes parking sensors, climate control and heating of all seats. There is an outlet in the trunk, which is rare for cars of Korean origin. Diesel engine power - 141 liters. c, the gearbox can be either automatic or manual. And if you add here a democratic price starting from 820 thousand rubles, you get an excellent SUV for traveling in any conditions and at any time of the year.
Comfort level and hiking gear
Few people go on a long car trip light. Usually people take with them not only family and pets, but also a lot of things, from spacious tents to barbecue grills. All this must somehow be brought to the destination. Here are a few cars that allow you to do this without too much trouble.
Volkswagen T5 Doubleback
In Europe, the Volkswagen T5 Doubleback is very popular among tourists. All because of its extensibility. You can attach a small compartment (DoubleBack) to the van, and the car turns into a real motorhome.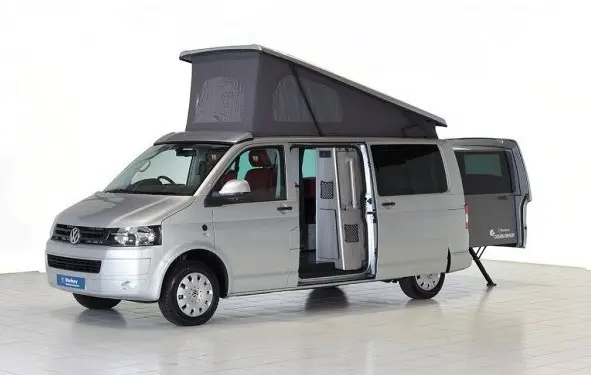 Volkswagen T5 Doubleback can be turned into a real motor home
At the rear of the van is a special retractable frame with an electric drive, which allows you to double the interior space within 40 seconds. As a result, a bed, a wardrobe and even a small kitchen can easily fit in the car. And the front seats have a unique feature: they turn 180 degrees, turning into a small sofa. Thus, the Volkswagen T5 Doubleback allows you not only to transport anything and anywhere, but also to do it with maximum comfort for the carrier.
Volkswagen Multivan California
The name of the Volkswagen Multivan California speaks eloquently about the appointment of the Volkswagen Multivan California. The car is ideal for transporting various goods, as well as for a family trip. The multivan has a stove, a table, a couple of lockers and two beds. There is a water tank and a 220 V socket. The rear seats fold out into a bed.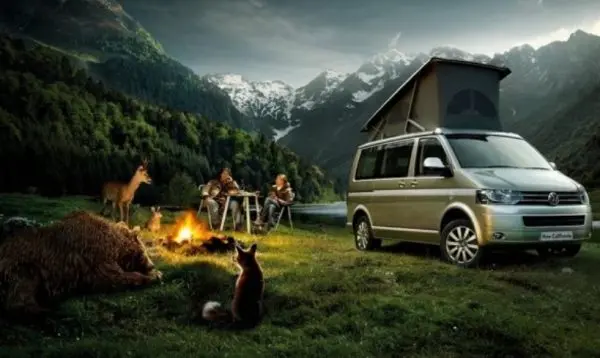 Volkswagen Multivan California has a retractable roof
And under the seats is an additional pull-out compartment. The roof of the van extends upwards, which increases the size of the cabin several times and allows you to walk on it without bending down. An important nuance: despite its solid dimensions, the car is very economical. When driving on the highway, it consumes only 8 liters per 100 kilometers.
Land Rover Discovery
The van format is far from the only solution popular with campers carrying large amounts of gear. There is a second option: using a trailer (or even a small motorhome). And from this point of view, the Land Rover Discovery is a car that pulls large motorhomes, small trailers, trailers with yachts, and even wagons with horses with equal success.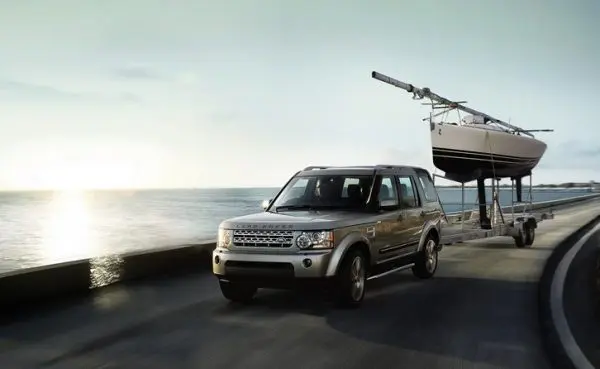 Land Rover Discovery - the perfect car for a trailer or trailer
When you don't have a trailer, this is the perfect family car with plenty of room for everyone. The seats in Discovery are designed like a stadium, which allows even rear passengers to see the road perfectly. All seats are folding, and the trunk volume is huge - 1270 liters. Engine capacity - 3 liters. And this is more than enough even for driving with large two-axle trailers loaded to capacity. The main disadvantage of the car is its high price. The car in the minimum configuration will cost 4.2 million rubles. In addition, the maintenance of American cars has always been expensive compared to the same "Germans" or "Japanese". But if the buyer is not embarrassed by price issues, he may well get a reliable car for traveling even to the ends of the world.
So, the number of criteria that the autotourist has to focus on is very large. That is why there is no universal solution for everyone. Everyone chooses a car that can satisfy exactly his needs. And this choice is limited solely by the thickness of the wallet.